So you've played around with RunSFM and produced some cool looking point clouds. But let's go even further and create a textured mesh model for extra coolness. TextureMesh is a program to do texture mapping on a 3D mesh for this very purpose. It's designed to be used in conjunction with RunSFM and Meshlab. The workflow is as follows:
RunSFM -> Point cloud from PMVS -> Meshlab -> TextureMesh -> ViewMesh or MeshLab
The end result can be seen in this video.
TextureMesh uses the files inside the pmvs directory, plus an additional mesh ply that you'll have to create manually, and determines a suitable texture mapping for each triangle face based on camera information. Since a face can be assigned to more than one camera in most cases, it uses a fancy Loopy Belief Propagation algorithm to smooth out the assignment. Without this step you'll see lots of inconsistent illumination of the surface.
Download
Last update: 10/08/2013
TextureMesh-0.2.1.tar.gz (added Wavefront OBJ support, can now load in MeshLab)
Latest Windows binary compiled using Visual Studio 2010:
Compiling
You can simply type make to compile for both programs or alternatively open it up in CodeBlocks.
Usage
TextureMesh requires an additional mesh.ply file be created and placed in
pmvs/models/mesh.ply
Instructions for creating said file is described in the section below. Once you created that file you can then call TextureMesh as follows:
./TextureMesh [pmvs_dir]
where pmvs_dir is the directory that PMVS generates. Then view the output by
./ViewMesh [pmvs_dir]
Instructions for using ViewMesh is shown on screen. Alternatively, the model can be views in Meshlab by loading [pmvs_dir]/models/output.obj.
Limitations
TextureMesh loads all the images into memory even if parts of the image is not used. It will shrink the image if the width is larger than 512 pixels. This is a hard coded value. Hopefully you don't run out of memory!
Sample dataset
Here is the same castle dataset used in the video. The images came from http://cvlab.epfl.ch/~strecha/multiview/denseMVS.html
castle-data.7z (53.4 MB)
You can run either TextureMesh or ViewMesh on it to verify things are working.
License
Simplified BSD license. See LICENSE.txt inside the package.
How to create a mesh model in Meshlab

The following instruction assumes you already have existing directory where you ran RunSFM on. The first step is to create a 3D mesh from. Go to your project directory and open up pmvs/models/option-0000.ply in Meshlab. You'll want to do a Poisson Surface reconstruction. Here's how I typically do it in Meshlab
Perform a Poisson surface reconstruction as shown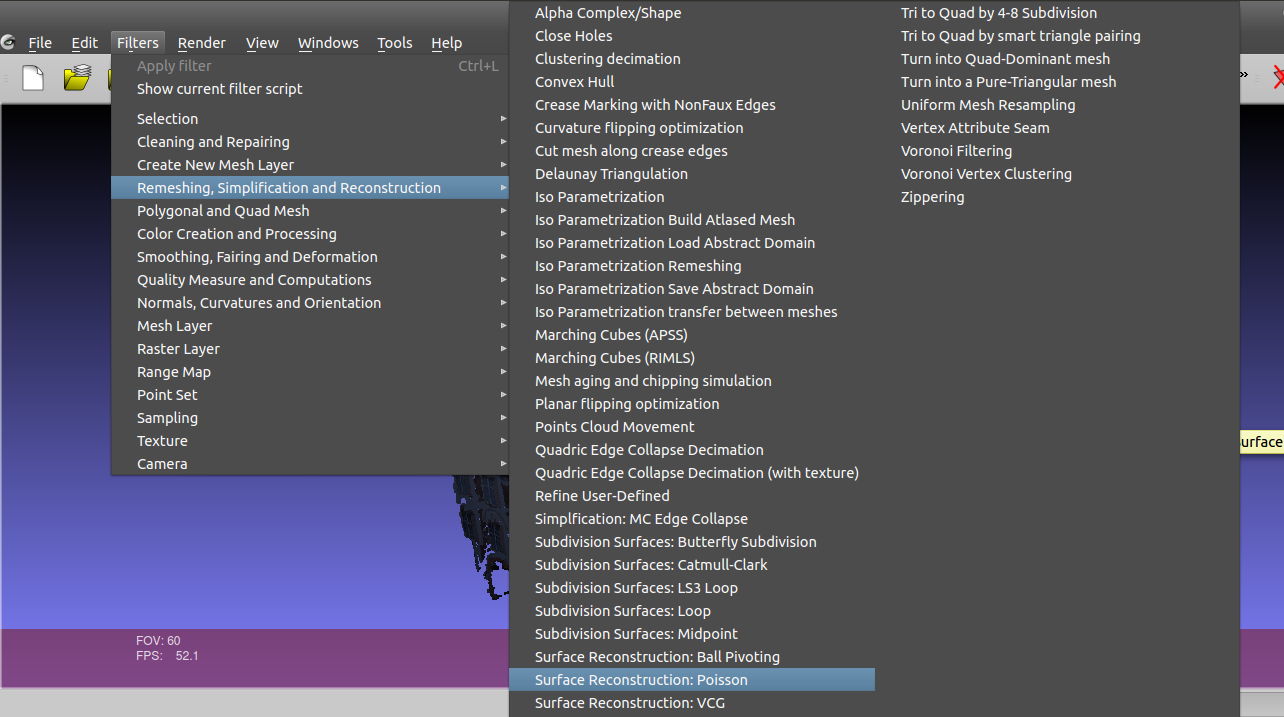 Enter 8 for Octree Depth. I find the default 6 too coarse.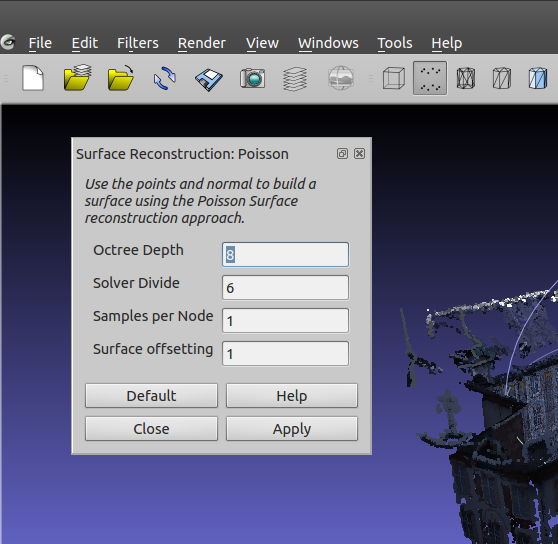 Hit Apply, then Close. I find that UI aspect of Meshlab a bit silly, having to click Close. Click the button circled in red to see the mesh.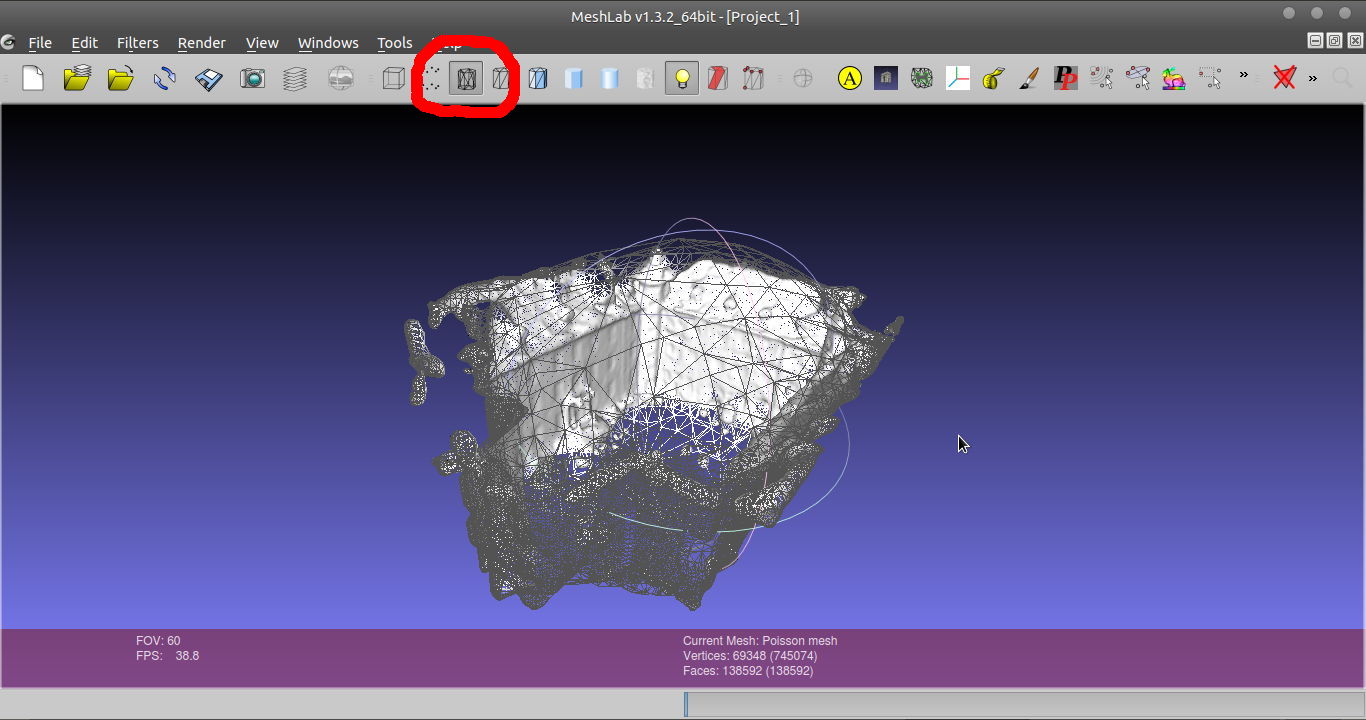 You'll notice that the mesh expands across space where it shouldn't. Lets delete them. Select the 'Select Faces with edges longer than …' option.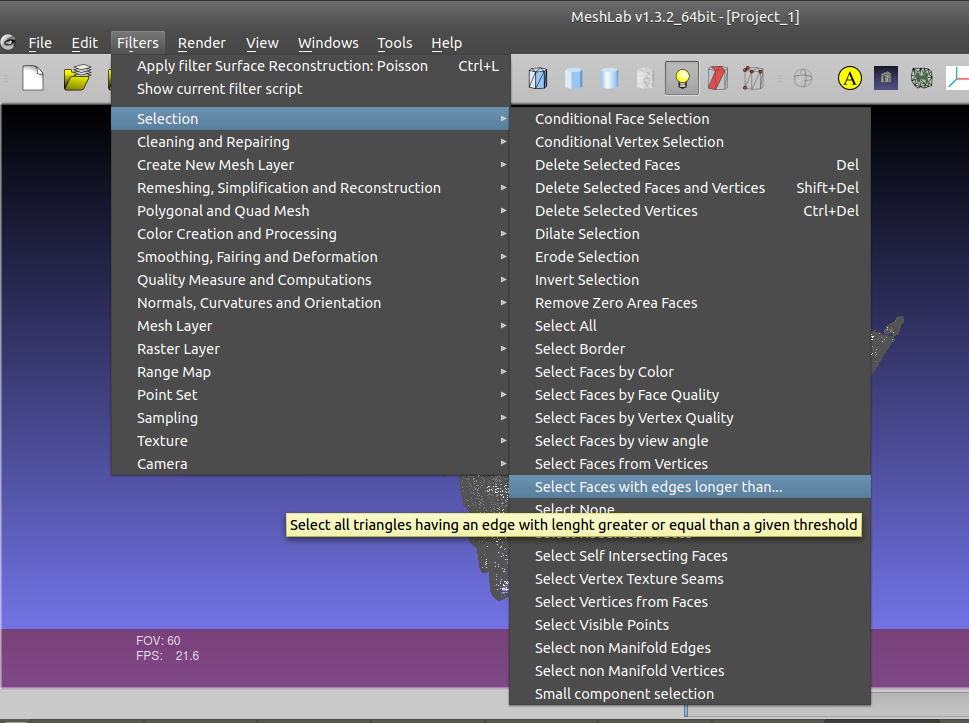 I tend to pick a value around 0.5. Pick a value and click Apply, Close.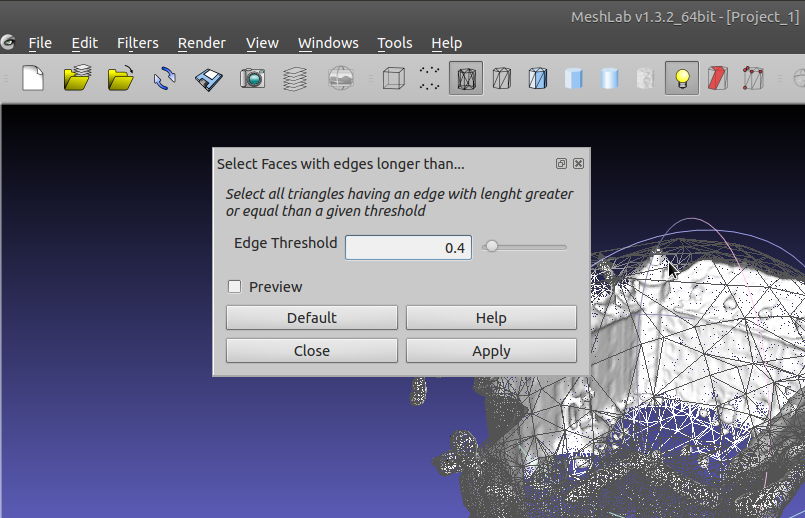 You'll see the large faces highlighted. If you're not happy with the choice you'll have to go to Filter -> Selection -> Select None and redo. Once you are happy delete the faces and vertex via the button shown or Shift + Del.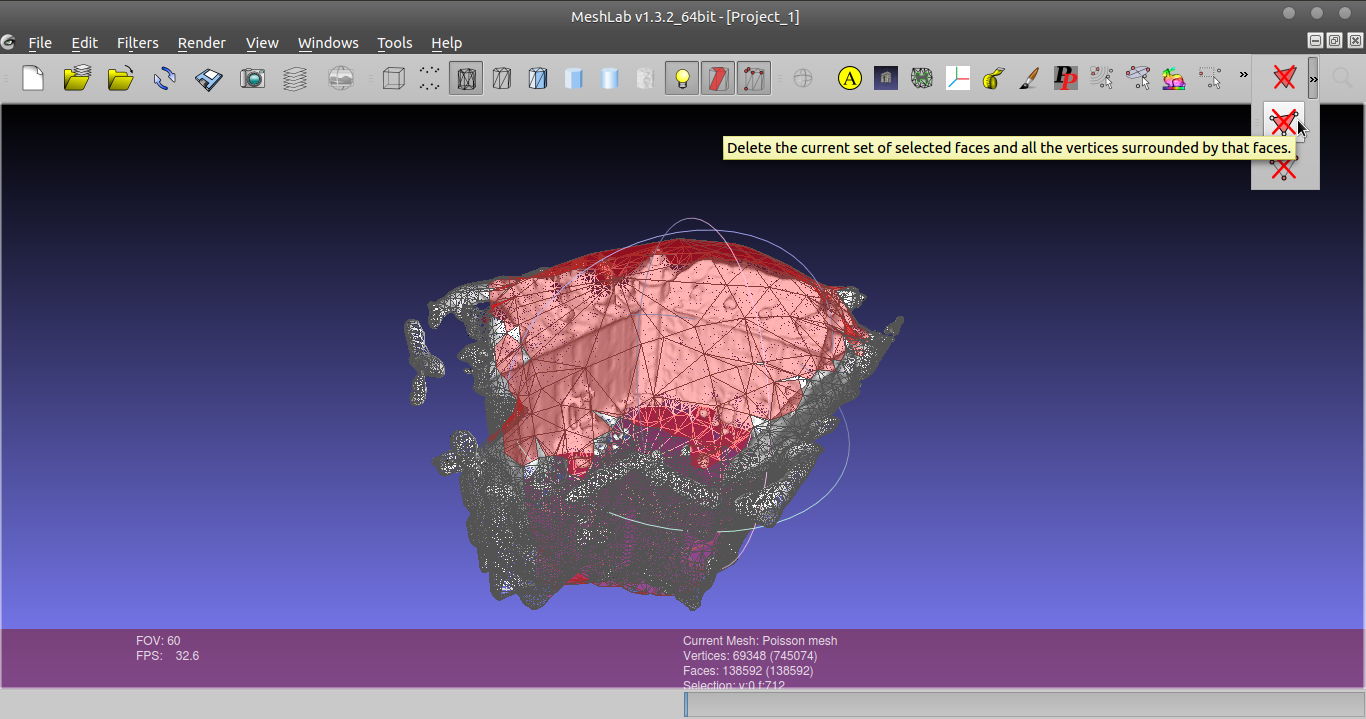 Looking good so far.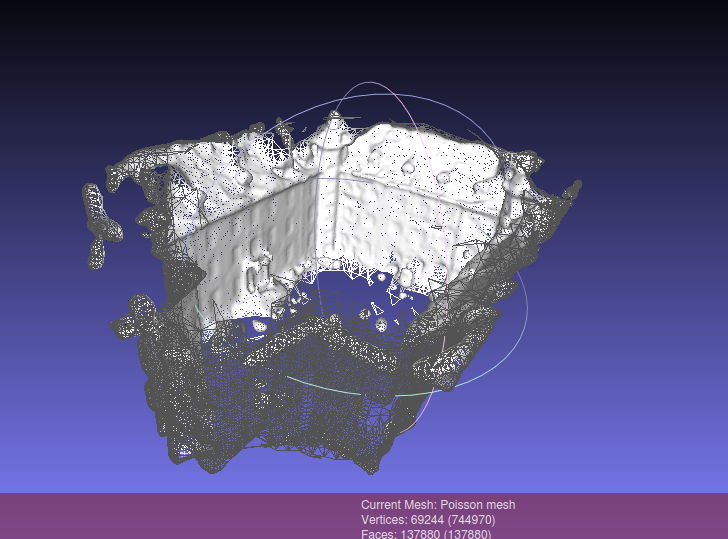 But the mesh is denser than it really needs to be, which slows down rendering. Lets decimate it using Quadric Edge Collapse Decimation.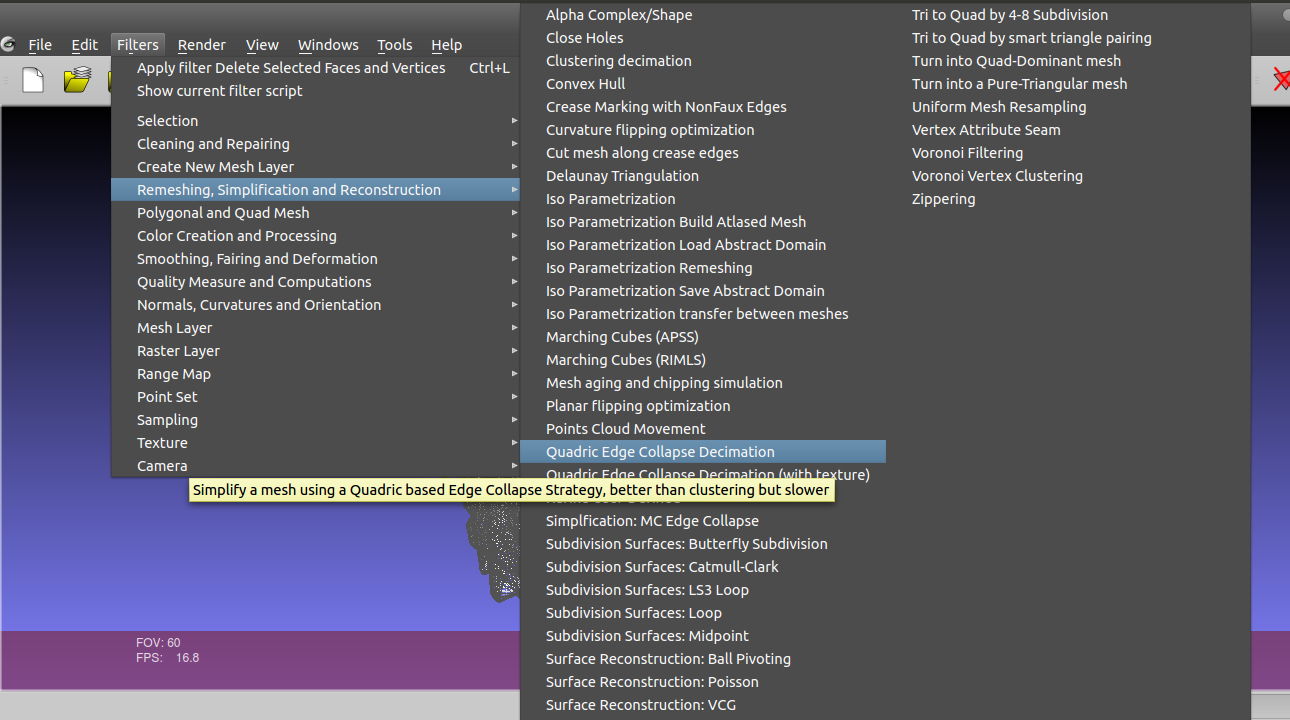 By default it will reduce the mesh to 10% of the original size. In this example I take it down to 1% (6894 faces) by deleting the last digit of the default value. I also tick Preserve Topology and Planar Simplification.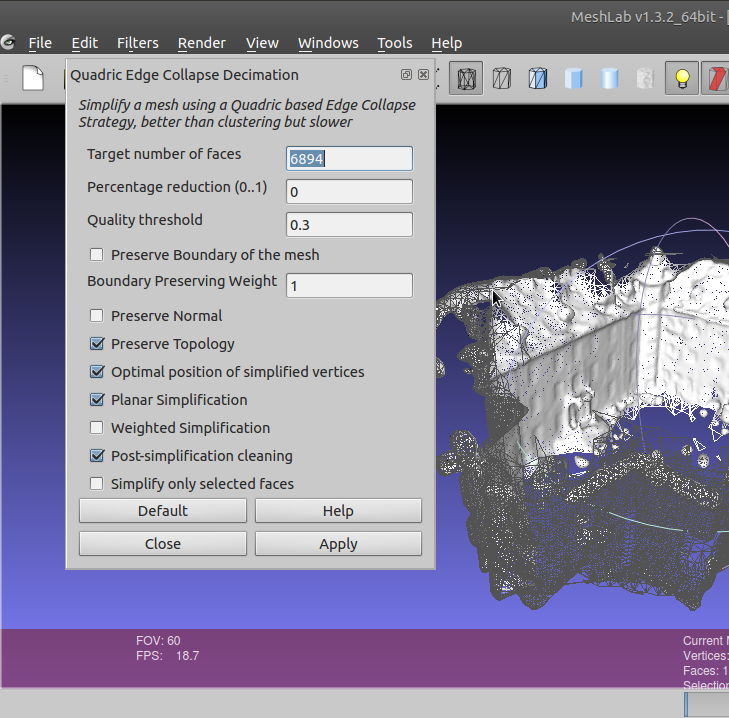 A simpler mesh model.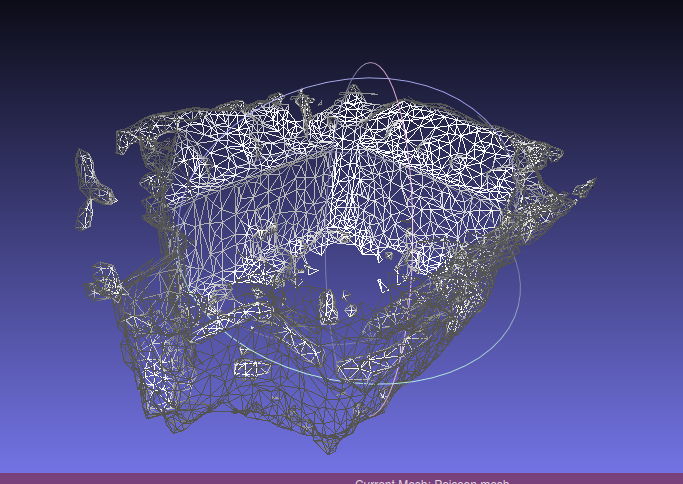 There are some floating bits and pieces here that we can clean up but for now we'll just save it as is. Save the mesh via File -> Export Mesh.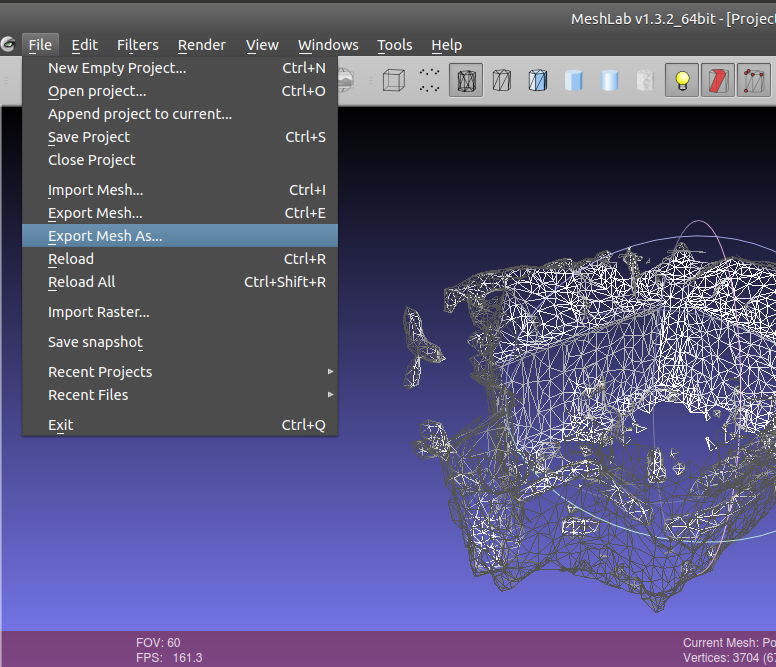 Save the mesh as mesh.ply. It HAS to be this name. Make sure to untick binary encoding and you're done!