This is a simple domain specific (VERY specific) cell counting software I wrote for a friend. It's a semi-automated tool to help count cell colonies. Just to give an example of how domain specific, it's designed to work with images that look like below. The cells have to be darker than the surrounding.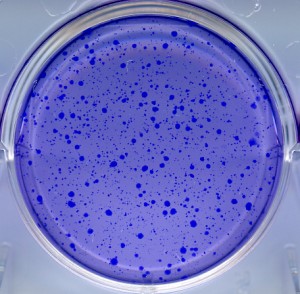 Have a look at this video, which shows how the software works and what it can do. NOTE: The video shows an out of date version, but most of the interface is the still the same.
Download
CellCounter is cross platform and has currently been tested on Linux and Windows 7.
| | |
| --- | --- |
| | CellCounter.zip – Pre-compiled Windows 32bit binaries. Tested on Windows 7. |
Source code can be found on Github at https://github.com/nghiaho12/CellCounter
Sample data
sample.tif (26MB) Right click and save as
Quirks
On Linux when loading sample.tif it comes up with a few error, as shown in the video, you can ignore it. It does not seem to have an impact.
Usage
The video in the introduction gives an idea on how to use the program. The mouse and keyboard functions are:
Mouse actions:
Left button down + move – pan the image
Scroll wheel – zoom in/out
Double click – centres the image
Left click – select well
Ctrl + left click – add colony
Right click – remove colony
Keyboard actions:
s – switch between binary and colour image
These instructions can also be found by going to Help -> How to use.
When you click 'Save results' it will add an entry into the text box in the bottom right. It's a 3 column entry separated by a TAB. The first value is an incrementing number, the second is the pixel co-ordinate of the well's centre, where (0,0) is top-left. The third value is the number of colonies counted. You can copy and paste this directly into Excel and it will put them into the correct fields.